Agricultural Tourism
"Merci Agricultural Tourism" is born on the 10th February 1992 from a project where we restructured the house that we grew up in. We are proud to be amongst the pioneers of this type entrepreneurial reality in Verona and its provinces and at the same time we are proud to have brought up a family with our grandparents and parents, the values tied to the love of our land and the passion for the great Veronese and Venetian food.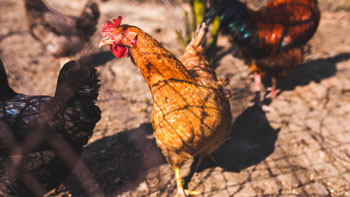 The Farm
We run a small farm with sheep, goats, pigs, rabbits, chickens and ducks in order to always guarantee a fresh and quality product, and so that we look after their food in a wholesome and real way.
For beef and in certain seasons, we lean on agricultural businesses in Campagna Amica and for the tastiest cheeses produced locally, known in Italy as "chilometro zero", all those thriving businesses that are right on your doorstep.
---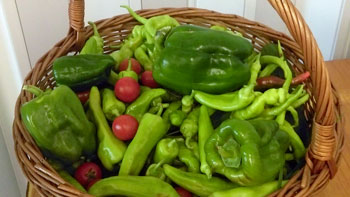 Our Garden
We dedicate ourselves with love to our garden, which has vegetables and herbs and its thanks to these that we enrich our meals with seasonal produce. We also grow two types of trees; olives and cherry, which are typical to Valpolicella and nearby Lake Garda. With the harvest of the olives, we produce olive oil which you will find on our table, and thanks to the cherries, we produce delicious jam for pastries which are made strictly following the traditional recipes passed on by various generations.
---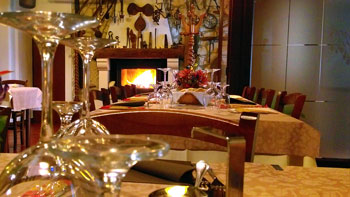 The Large Fireplace
The large wood burning fireplace is always burning in the kitchen when agricultural tourism is ongoing, as from our own woods we collect firewood for the grill, so that we can cook the main courses really well and also grill the delicious vegetables. You will taste dishes cooked on firewood gathered above our house, produced from our uncontaminated and sustainable environment.
Running the agricultural business, we are able to offer our clients a traditional cuisine made up of natural ingredients and produce from the land looked after and picked by us. Our garden is a fine example of vegetables and herbs; a space favoured by wonderful smells and colours. A good amount of raw materials which are present in our menus are derived from the activities and spirit of the farmer which makes us different. We therefore have the advantage of giving our guests the opportunity to taste and appreciate the local cultural tastes, obtained whilst respecting the natural seasons of our products, its origins and the balanced composition of each ingredient.
We brothers are always available to give you the best Corte Merci wine pairings to all of our dishes and we are also happy to organize private tastings.
Our wines: